This month Latvijas Mobilais Telefons (LMT) became the first telecommunication company in Latvia to receive three international ISO certificates: the LMT integrated management system which includes information security, quality and environment management and development has been audited and found to confirm with ISO 9001, ISO 14001 and ISO 27001 international standard demands.

"To LMT clients and collaboration partners this certification serves as an internationally recognized confirmation that LMT is able to provide all electronic communication services and intelligent services according to modern requirements regarding information security, quality, environment and energy efficiency management," the LMT vice president in administrative legal issues and board member Laura Keršule confirms.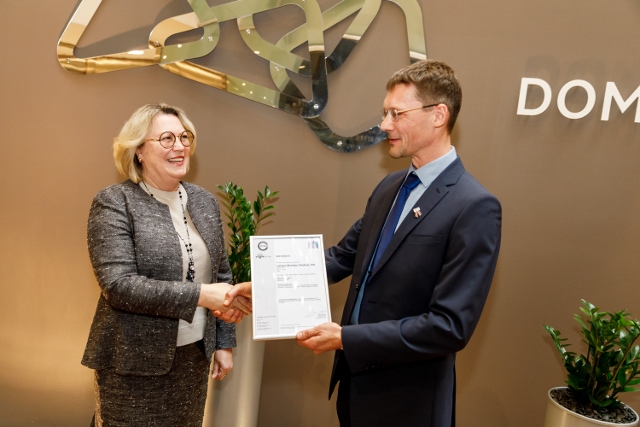 An independent audit for LMT was organized in order to receive the certificates. The audit was performed by an auditor team of an accredited certification organization BM Trada Latvija. "The ISO certificates that were granted to the company prove that the company management and employees work together persistently, and to the current and potential clients and collaboration partners this serves as an affirmation that the company cares about service quality and company sustainability," says board member of BM Trada Latvija Uldis Klezbergs.

The ISO 27001 proves that strict information security management is carried out in LMT: the information of the company and its clients is protected by timely identifying potential risks and performing the necessary actions to prevent or limit them. Therefore LMT clients can be sure that their information is safe, will not be lost or disclosed to unrelated persons.

The ISO 9001 proves that LMT provides high quality electronic communication services and intelligent services according to client demands and laws and regulations. LMT received the ISO 9001 certification in 2002 and maintains it.

The ISO 14001 proves that LMT is an environmentally friendly and sustainable company that only uses green electricity on a day-to-day basis, has acknowledged its impact on the environment and introduced measures to manage and reduce this impact.

ABOUT LMT
As to the number of connections, turnover and network coverage, the LMT is the largest mobile communications operator in Latvia with the most extensive customer service network. Being an undoubted innovations leader, the LMT offers its customers a complete range of high-quality telecommunications services - voice communications, high-speed unlimited mobile Internet, as well as mobile TV LMT Straume and LMT Home Smart TV.

About LLC BM Trada Latvija
BM Trada Latvija is an Exova BM Trada Group company that has been active in Latvia since 2006 and is responsible for agencies in Lithuania, Estonia, Finland, Germany, Belarus, Ukraine, Sweden and other countries in the field of certification, testing, inspection and training. BM Trada Latvija provides certification of management systems, supply chains and products.