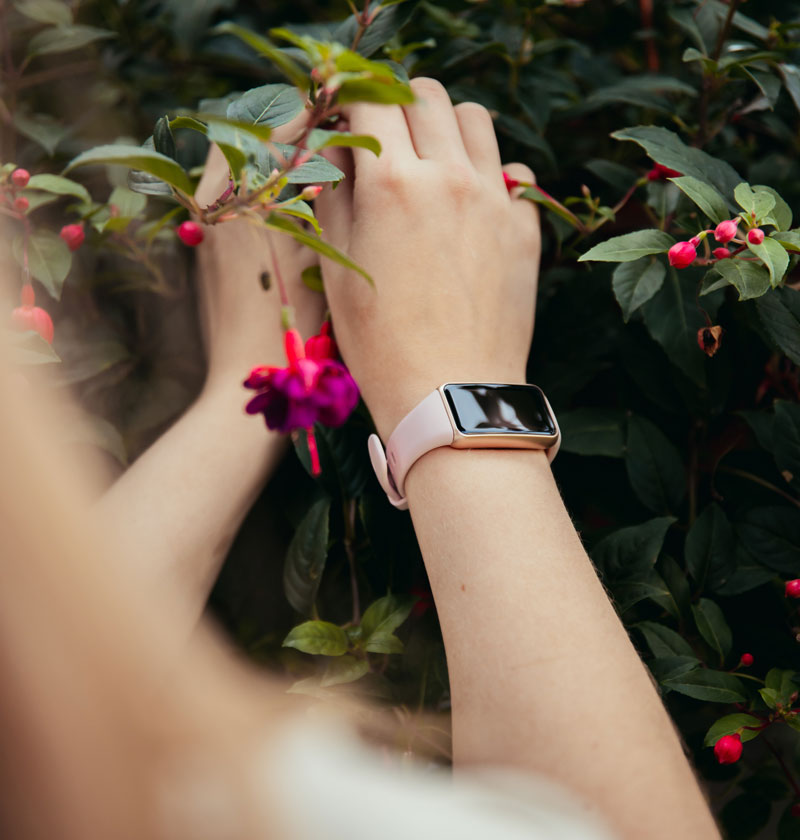 The dream of leaving your home without a telephone, while not losing contact with the outside world, is now a reality. Training, during which you can control not only your heart rate, but also the oxygen saturation of the blood and other indicators of the body, is an everyday situation. We can be thankful to smartwatches which have evolved from slightly improved timepieces into autonomous and very smart devices. The latest models are now able to perform the function of a telephone even when not close. Here we introduce the latest, thinnest, lightest and otherwise stylish smartwatches offered at LMT e-store..
Smartwatch that stands out with design – Garmin Lily
Garmin Lily Sport is classically elegant and at the same time modern and functional. It is a compact smartwatch fit for a woman's wrist and is extremely capable. The bright touch-sensitive 25.4 mm x 21.3 mm screen is covered with a stylish, patterned glass and is activated with both touch and hand movement. The sporty silicone strap holds the watch tightly on your wrist to accurately measure heart rate, body energy, breathing and stress levels. Garmin Lily also monitors the menstrual cycle, sleep quality and oxygen saturation in the blood. Besides, it receives messages from the paired smartphone and allows you to reply to them. Functions up to 5 days on a single charge.
Up to 54 days on a single charge – Garmin Instinct Solar
Garmin Instinct Solar lives on solar energy and lets you do whatever you like for as long as you want! The built-in solar panel regularly recharges the battery, so you can keep the smartwatch on your wrist for even 54 days. The fibre-reinforced polymer case and Gorilla Glass safety glass make this device a reliable partner for adventure and sports. It meets the military standard 810 temperature, impact and water resistance requirements. The smartwatch offers a wide range of sports applications, measures heart rate, stress levels, blood oxygen and energy levels. Three satellite systems – GPS, GLONASS and Galileo – are used for precise positioning, while ABC sensors measure altitude, perform the functions of a barometer and three-axis electronic compass. Instinct Solar also allows you to receive messages from a connected smartphone..
Great fitness bracelet – Huawei Band 6
Huawei Band 6 boasts about a wide, colour screen for more convenient viewing of measurement data, while maintaining the size of a compact smart bracelet. Weighing just 18 grams, the 1.47-inch AMOLED FullView screen is 148% larger than of the previous model and provides full touch control. Choose your favourite strap colour, apply the appropriate screen design and enjoy physical activity day by day, as the bracelet functions up to two weeks on a single charge. Band 6 continuously measures heart rate, monitors blood oxygen saturation, analyses sleep data, and monitors the menstrual cycle. It recognizes 96 sports activities and prepares detailed training reports. In addition, you can view call and message information without taking the telephone out of your pocket.
Detailed analysis of physical activities – Garmin Venu 2S
Garmin Venu 2S connects body and mind: the Venu 2 small version with a 40 mm stainless steel body is a great assistant for maintaining a healthy lifestyle. The bright AMOLED screen, protected by Gorilla Glass 3, allows you to view both the most important measurement data and receive tips for a more active lifestyle. Venu 2S monitors energy and stress levels, respiration rate, sleep quality, menstrual cycle and even calculates the body's actual age! 25 pre-loaded sports apps measure a variety of sports activities, as well as take on the role of coach by showing animated exercises. The smartwatch can store up to 650 songs and can be linked to a payment card using the Garmin Pay system. Besides, the Venu 2S has an enviably large battery that lasts up to 10 days on a single charge.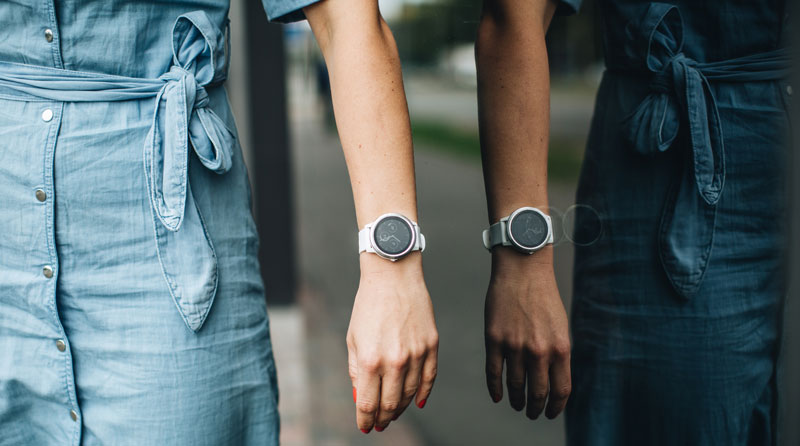 The thinnest and lightest among Suunto products – Suunto 9 Peak
Suunto 9 Peak measures even what cannot be measured! It is the latest, thinnest, most compact, and most durable sports watch that Suunto has ever created. It is designed for athletes who strives for the highest peaks and adventurers who are ready for the hardest challenges. Made of stainless steel and sapphire crystal, Suunto 9 Peak is as solid as a Finnish rock and at the same time so appealing to fit a tuxedo perfectly. The 62-gram lightweight watch has more than 80 sports modes, lists the most important parameters of physical activity and allows you to dive up to a depth of 100 meters. In addition, it has a built-in barometer. In training mode, it functions for up to 170 hours on a single charge, while in the watch mode – up to 2 weeks!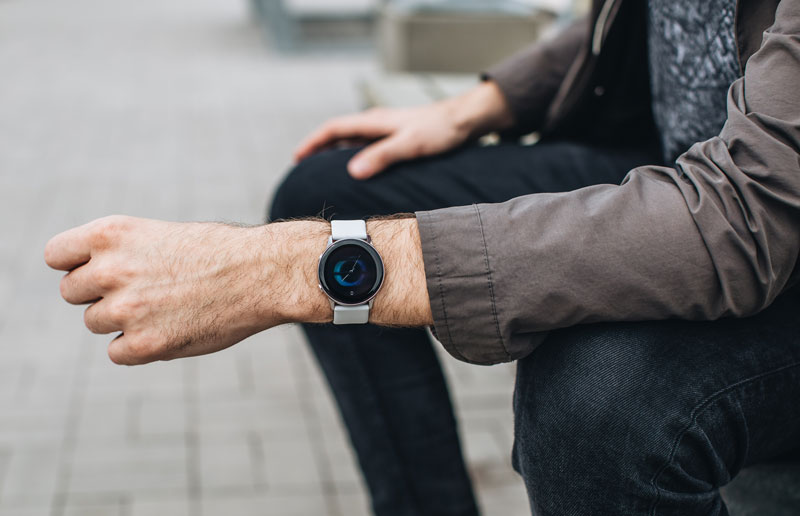 The hottest newcomer – Samsung Galaxy Watch4
The new Watch4 has joined the family of Samsung Galaxy smartwatches. It is stylish and cannot go unnoticed, available with a 40, 42, 44 or 46 mm screen – it gets one extra millimetre in each position. Thanks to Wear OS 3, Watch4 now gives you access to the extremely rich Google Play digital store – find your favourite app and download it on your watch just like on a smartphone.
But that's not all. This smartwatch knows you better than you know yourself. With Galaxy Watch4, don't just listen to your body, but know it! This is the first Samsung smartwatch that measures body composition and helps to find out in real time the percentage of your body fat, musculoskeletal condition, the amount of water and many other valuable parameters. It reports changes in blood pressure and heart rhythm. Count steps, compete with friends via live message boards, get tokens and points that make training fun and motivating. The watch will look after you even when you are asleep: it analyses the sleep phases in detail, checks the oxygen level in the blood and… You think you don't snore? Finally, you'll find out that too! In short, it is a fitness essence on the wrist.
Multi-SIM and payment options
eSIM, Multi-SIM, Garmin Pay etc. – what exactly are these extra talents in smartwatches?
Those who want to use both a phone and a smartwatch, but do not want to bother with multiple numbers, were born at the right time – now it is possible to link a phone number with your smartwatch if it supports the Multi-SIM option. Both devices can have the same number, and the smartwatch will not require a separate voice tariff plan and internet service. If you have LMT Freedom and Independence connections, you'll also have unlimited calls, text messages and the Internet on your smartwatch.
It's easy to connect: if you use the LMT voice tariff plan and your smartwatch supports Multi-SIM, the phone has at least 1.6 GB of free RAM and an updated version of the operating system (iPhone models at least iOS 9.0, Android – at least 6.0 OS), connect the Multi-SIM at your My LMT account or remotely by activating eSIM on the smartwatch. If your phone has only an eSIM (no SIM card), you must insert an active LMT SIM card in your phone when activating the service. If there is no such opportunity, go to the nearest LMT Customer Centre – we will help you!
But let's go one step further! Do you want to go outside leaving at home not only a phone, but also a wallet? No problem! With most Garmin, Fitbit, and Apple smartwatches, you'll be able to pay wherever the contactless payment symbol appears, even if you're leaving home empty-handed. Now you can "carry money" on your watch and pay with a hand gesture! All you must do is to link your payment card with the smartwatch. Such payments are completely secure, as the same security procedures as for bank payment cards are applied. In short, a smartwatch is the key to unlimited freedom!